I love this Arya! In this picture she sort of reminds me of a very young Alanna from the Song of the Lioness books. Original source: http://twiggymcbones.deviantart.com/
ZOMG, I was about the say the same thing! Her hair is redish, and her eyes could almost be purple :)
The Bigass Fantasy Maps I Love Post
Let's begin with a classic: Ursula Le Guin's Earthsea. I love all the islands, the scattered nature of her world, the mythos of the place names, the possibilities of having so many lands and so many peoples. It feels so real.
Tamora Pierce's Emelan and surrounding lands. This is the only nothing-justified fantasy map I know of. Sure there's a sea in the middle, and a tip of one at the top, but that's it. We're truly inland here, travellers going by road rather than ship.
My strong dislike of Steven Erikson's writing not withstanding, he does have one cool world. Like Earthsea, only with continents, we get a complete world. It goes to both poles and wraps around all the way. Another world that gives hints of richness and looks truly real.
Holly Lisle's Matrim is so win that I'm willing to overlook her straight-lined, right-angle border and stick it in my fantasy map love post instead of my fantasy map hate post. I love the craters, the swooping chains of islands, the curves of continents, the darkness of magic that has scarred her world. You get a deep sense of story just from the map alone. Plus, it's in colour and has coffee stains!
Being Canadian, I really hate fantasy authors who write off the northern bit as empty wastes where nothing happens and they don't bother with up there. In J. V. Jones's Sword of Shadows everything happens up there in this top-justified world. She does have a giant gap called the Great Want, but there's lots of plot going on there too. The map suggests cold, and I feel cold to bone just reading them.
The last two are from Jude Fisher's Fool's Gold. I have no idea what the fuck is going here, I can't even remember what the books are about. I just love that the maps are round, uncharted is not where the page ends and it's just so damn unique.
Honourable mention: I've never read Adrian Tchaikovsky yet, but for the scale of his world the map has an impressive amount of detail.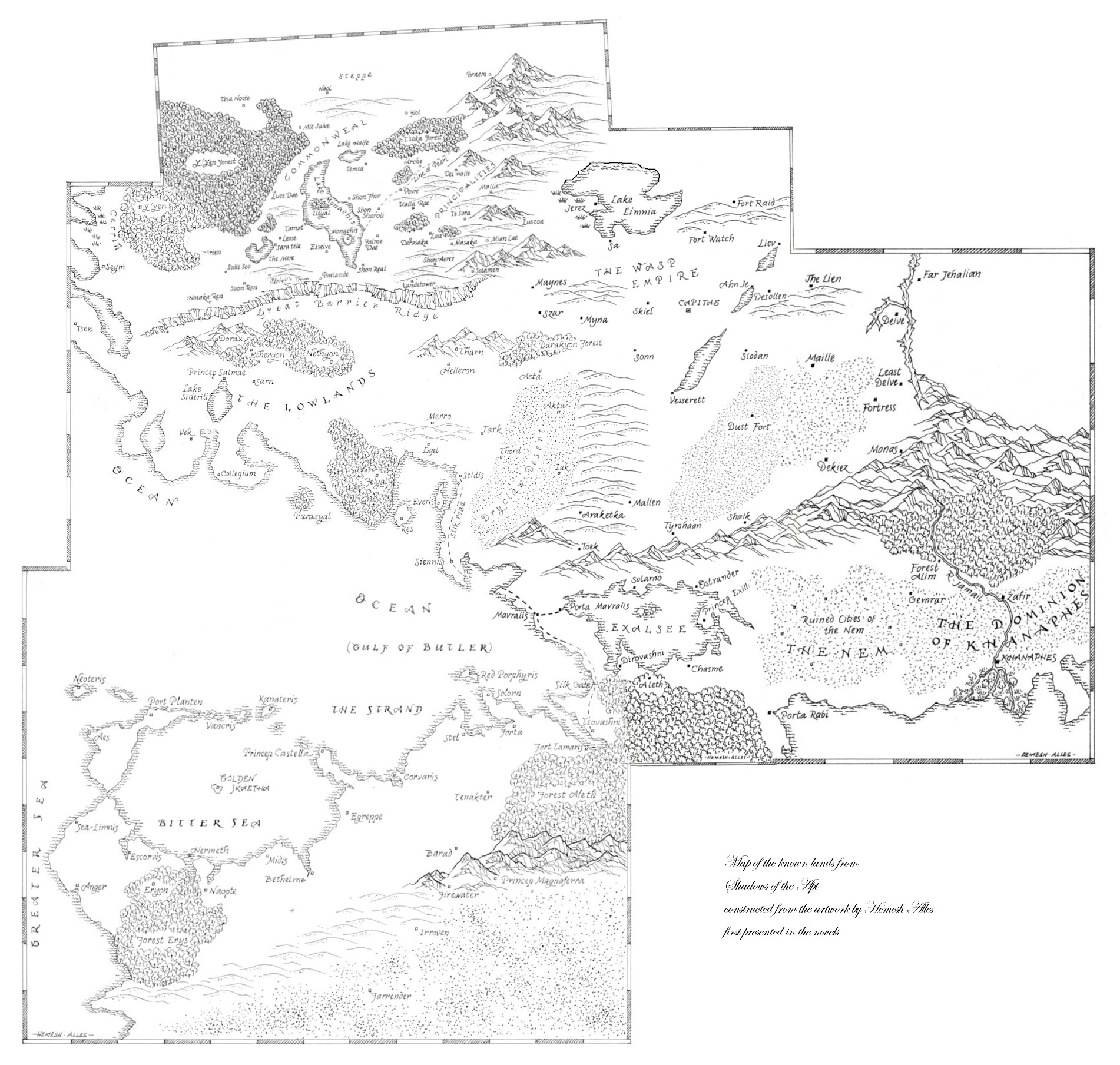 Advice for the ladies of Westeros.
The first one, awsome. The last, I don't know what it's talking about.
The other, nooo! Don't go to Paolini-land Sansa! Come to the Enchanted Forest or Middle Earth or some real fantasy place.
(via joannalannister)
Birth Control in Fantasy: A Guide.
Realm of the Elderlings: wizardwood navel ring
Tortall: magic charm
The Hundred Thousand Kingdoms: godwords
Terre D'Ange: divine intervention
Valdemar: potions
One thing I noticed is that fantasy birth control tends to be infallible. Does anyone know any that isn't? (Not including historical methods, just typically magical author-created methods.)
Crown Prince. King of Thieves. Shang Dragon. Notches in the bedpost.
Ever notice how every guy Alanna is involved with is at the top of his profession? It is great to have a woman in YA fiction in charge of her sexuality and not shamed for it. I think Song of the Lioness were the first books I read with sex in them, and good thing. I can't think of a better influence.
Yamani Empire Y U No in Song of the Lioness?

Just throwing it out there. Because sudden nearby nations appearing is one of my pet peeves of fantasy and such an authorial intrusion.

Probably because there was no treaty between Tortall and the Yamani Islands until before the Protector of a Small series.
Yes, but if it existed at the time of the SotL then it would have been mentioned. They don't need to have a treaty in order to refer to that nation.
(via awarriorsheart)
Yamani Empire Y U No in Song of the Lioness?
Just throwing it out there. Because sudden nearby nations appearing is one of my pet peeves of fantasy and such an authorial intrusion.
Wolf Speaker, Book 2, Immortals, Book Cover
…is that a musket? Beats skimpy armour Alanna!
Middle Earth: left justified
Narnia: right justified
Emelan: bottom justified
The Northern Territories: top justified
Earthsea: Justify All The World!
hello, ladies
Why Briar Moss is cooler than him.