The Bigass Fantasy Maps I Love Post
Let's begin with a classic: Ursula Le Guin's Earthsea. I love all the islands, the scattered nature of her world, the mythos of the place names, the possibilities of having so many lands and so many peoples. It feels so real.
Tamora Pierce's Emelan and surrounding lands. This is the only nothing-justified fantasy map I know of. Sure there's a sea in the middle, and a tip of one at the top, but that's it. We're truly inland here, travellers going by road rather than ship.
My strong dislike of Steven Erikson's writing not withstanding, he does have one cool world. Like Earthsea, only with continents, we get a complete world. It goes to both poles and wraps around all the way. Another world that gives hints of richness and looks truly real.
Holly Lisle's Matrim is so win that I'm willing to overlook her straight-lined, right-angle border and stick it in my fantasy map love post instead of my fantasy map hate post. I love the craters, the swooping chains of islands, the curves of continents, the darkness of magic that has scarred her world. You get a deep sense of story just from the map alone. Plus, it's in colour and has coffee stains!
Being Canadian, I really hate fantasy authors who write off the northern bit as empty wastes where nothing happens and they don't bother with up there. In J. V. Jones's Sword of Shadows everything happens up there in this top-justified world. She does have a giant gap called the Great Want, but there's lots of plot going on there too. The map suggests cold, and I feel cold to bone just reading them.
The last two are from Jude Fisher's Fool's Gold. I have no idea what the fuck is going here, I can't even remember what the books are about. I just love that the maps are round, uncharted is not where the page ends and it's just so damn unique.
Honourable mention: I've never read Adrian Tchaikovsky yet, but for the scale of his world the map has an impressive amount of detail.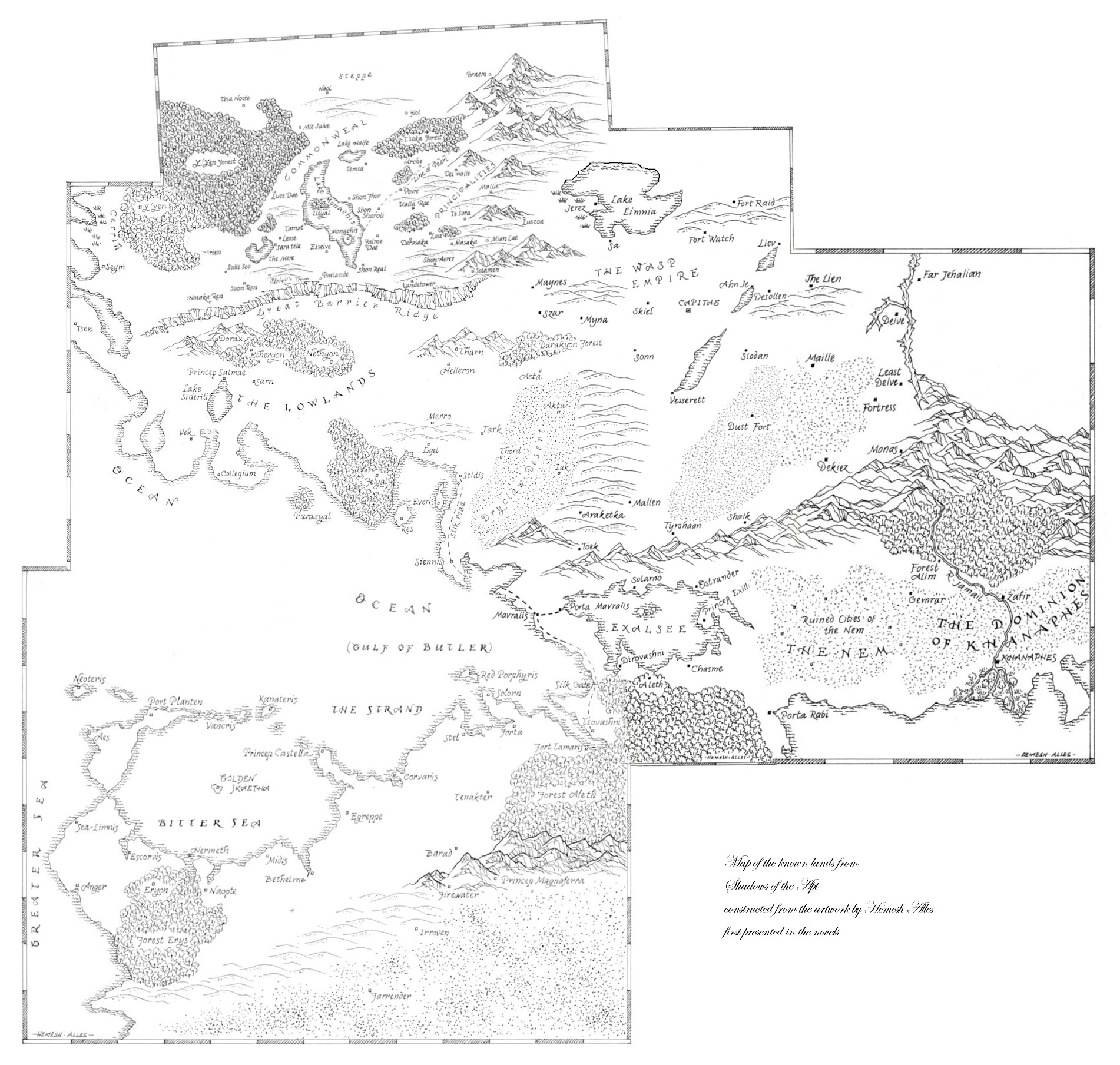 I think I'm going to start that next week! :)
Let me know what you think :) Tumblr needs more J. V. Jones stanning.
Days darker than night.
A Sword of Shadows tribute.
J. V. Jones
This is all about my love for J. V. Jones.
J. V. Jones is what most fantasy authors should be. First she wrote a generic, though well-done, fantasy trilogy. That would be the Book of Words. Not too much new here, but it's a load of fun.
But then, she actually learned and turned awsome. Her next series, Sword of Shadows is gritty and visceral and interesting and fresh and cold. It makes my shiver, and I'm Canadian. The characters are very human, and the setting is barren and unforgivable. This might be European-based fantasy, but it's parts of Europe that have not been done. It's four books long, and counting. She takes her time between books, but it is so worth it.
Plus, she goes on awsome trips, has an active lifestyle and hikes and shares her photos on her blog. She knows trekking through wilderness and its shows in her works. I can feel the dirt under my nails and the hunger in my belly and being lost in a bigass forest when I'm reading Sword of Shadows.
Middle Earth: left justified
Narnia: right justified
Emelan: bottom justified
The Northern Territories: top justified
Earthsea: Justify All The World!
I just finished Watcher of the Dead, by J. V. Jones and couldn't help but make the comparison between mid-series epic fantasy books. One of these two authors is doing something right.
WotD: Cliffhangers because shit happens and then new shit happens.
ADwD: Cliffhangers because GRRM ran out of pages.